Keep track of every card created inside Experiments with just a few steps
With this integration is possible to share every card created in Experiments with Airtable, and keep your management tool updated to increase even more the team's productivity.
Before starting, will be necessary to have a Zapier account and all the credentials necessary for the integration.
Generating Zapier's API key
To generate an API key for Zapier follow these steps:
Log in Experiments Account.


Access the 'Integrations' section.

Zapier > 'Add Integration'

'Generate API Key'


The token generated will be needed for authentication in Zapier.



Connect Experiments' App

Access Zapier's account > 'Make a Zap'






Choose App & Event
This section will define the trigger for the automation, so every time the chosen event happens, the automation executes the action.

Select NorthStar by GrowthHackers


The Trigger Event available is 'New Card'

Click 'Continue' > 'Choose Account'

**The token generated inside Experiments will authenticate the app for this automation.


To make sure all the credentials are correct Click on 'Test & Continue.






Now Experiments is connected and authenticated in Zapier, it is time to select the action inside Airtable.


Choose App & Event



Select Airtable > 'Choose Action Event'



For this automation the action chosen was 'Create Record', means that every time a new card is created in Experiments a new record will be registered inside Airtable.

Possible Actions:
*Create Record
*Update Record
*Find Record

Authentication



For this step, the authentication token generated inside Airtable's project used for this automation.
Access the Account's Overview > 'Generate API Key'






Choose Account

Airtable Account > '+ Add New Account'



Authenticate the app with the API Key generated in step 9.




Customize Record

Choose Base and Table to send the data from Experiments.

Soon as the account is authenticated all the data from Airtable will be loaded in Zapier in order to select where and what will be sent.




Populate fields with Experiments Data

Now is time to select what is relevant inside the card to populate the chosen fields in Airtable.





Test the Automation



After it is all set, its time to test and activate the automation.



If everything is ok, the following message will be shown: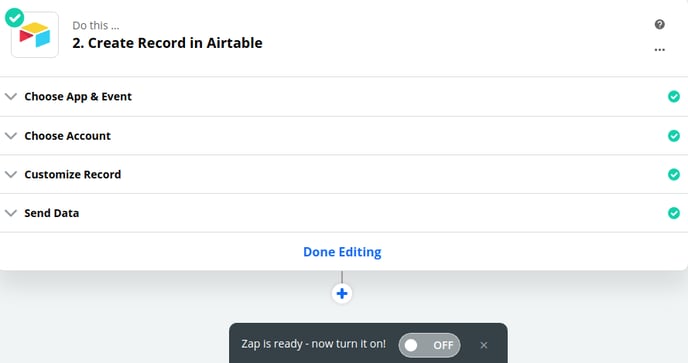 It is possible to confirm the test was successful and check the data sent to Airtable.



Done!
Its time to turn the automation on and start using it.