Get notifications to any Slack channel when cards are created, commented on, moved through the steps, and more.
This integration is one more option on Growth Experiments to optimize a team's experiment process. Bearing in mind that the whole process is customizable.
What does it do?
Setting up the integration
What does it do?
With this integration, the team is able to:
Receive notifications for important events like new cards created, new objectives created, cards added to objectives.
Create ideas directly from Slack using slash commands (ie: /idea [Name])
Receive direct messages for new mentions or assignment in Growth Experiments.
Interact with the Growth Experiments bot for a lot of cool new features.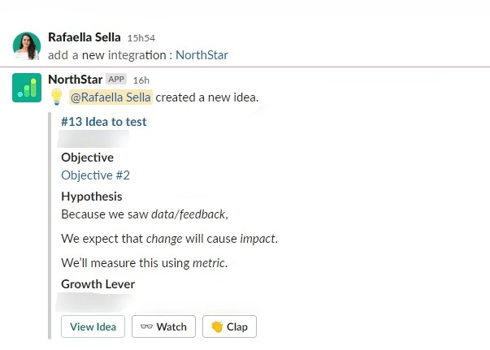 Setting up the integration
On Growth Experiments, go to the 'Integrations' section. - In the menu.
Look for 'Slack' and click on 'Add integration'.

Click on 'Add to Slack'.
Now it's time to allow NorthStar (GrowthHackers) to access some data from Slack and choose a channel from the drop-down.
Our team recommend creating a new channel called #growth

The integration is done. Now the Workspace is connected with Slack.

Happy integrating!